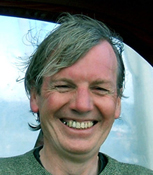 "Martyn G. Murray, Ph.D.
Director and Chief Executive Officer
MGM Environmental Solutions
_____________________________________________________

Personal Biography
Martyn Murray is a British biologist, researcher (ecology, biodiversity), theorist (competition and conflict), conservationist (company director and freelance consultant) and author. His biological specialties are the study of natural resources, herbivore communities and theory of social behaviour. His conservation specialties are biodiversity (species and habitat surveys, information systems, institutional strengthening, mainstreaming and natural resources) and protected areas management (policy, planning, development and budgeting). Martyn founded MGM Environmental Solutions Ltd in 1991 and is the Chief Executive Officer.
Prior to founding the Company, he was Senior Research Associate in the Physiological Laboratory, University of Cambridge for 12 years leading long-term projects in Tanzania on the community ecology and migrations of large mammals and in Malaysia on the evolutionary biology of wild figs and fig wasps. Whilst at Cambridge, he took an active role in the newly emerging science of conservation biology and worked with the Global Security Programme to explore the consequence of environmental insecurity and free trade on the future of biodiversity.
A native of the west of Scotland, Dr. Murray received a bachelor's degree in zoology at the University of Edinburgh in 1973 and a PhD from the University of Zimbabwe in 1980. In 1974, he was appointed Yvonne Parfitt Fellow at the University of Zimbabwe. In 1980, he was awarded an SRC fellowship at the University of Cambridge. In 1985, he was appointed Nuffield Research Fellow at the University of Cambridge and in 1987 he was appointed to the Senate of the University. In 1988, he was invited to become a member of the Species Survival Commission. In 1992, he was appointed as Senior Advisor to the World Conservation Monitoring Centre. In 1994 he was appointed Visiting Fellow at the University of Edinburgh. Currently he combines research into resource competition with consultancy in biodiversity conservation
A lifetime advocate of the importance of knowledge and ethics in the conservation of wildlife, Dr. Murray has facilitated and coordinated modelling workshops, developing multidisciplinary models of ecosystem dynamics which can be used to assess the impacts of alternative management policies and actions (including models of estuarine, rain forest and savanna ecosystems). At Edinburgh University, he co-founded the biodiversity unit and lectures on Community Ecology and Conservation Biology to undergraduate and graduate students. In 2003 he authored a Science article entitled Overkill and Sustainable Use which reviews humankind's history of wildlife exploitation over the past 50,000 years. He has recently published The Storm Leopard a book that explores the human-nature relationship and the origins of the environmental crisis. The philosophical inquiry takes place during a journey from the Cape of South Africa to the Serengeti Plains. Dr. Murray has also written and contributed to many scientific publications and conservation articles. His most recent paper which is in draft form applies Resource Competition Theory to the utilisation and competition over natural resources such as fisheries, forests and freshwater.
Dr. Murray has over 35 years of experience as an ecologist, conservationist and biodiversity consultant and has forged friendships and professional links with other consultants and scientists in biodiversity and conservation from all regions of the world.