About Martyn Murray
---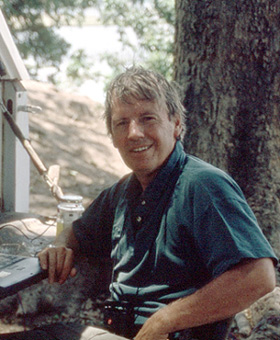 Welcome to 'Wild Nature with Martyn'. I'm your host, Martyn Murray, responsible for just about everything on this site. My aim is to provide you with the very best information on wild nature - what makes it tick, why we need it, where to enjoy it and how to protect it. I appreciate your interest and hope you will join in the debate.
Early Life
Born and brought up in Ayrshire, Scotland, I went to school in Perthshire, and studied at the Universities of Edinburgh, Zimbabwe, Malaya and Cambridge taking degrees in Zoology and carrying out research into the behaviour and ecology of shelduck at Aberlady Bay on the Firth of Forth, the social biology of impala in the upper Zambezi Valley, the symbiosis between wild figs and their pollinating figwasps in the Malaysian forests, the evolution of animal conflict and extreme male morphology at Cambridge, and the migration of wildebeest and ecology of grassland herbivores in the Serengeti National Park. This diverse set of work was anchored in my enduring fascination with evolutionary theory – kinship, conflict and competition. Working in Africa is a great joy and when I finished my studies in Zimbabwe, a friend and I drove back across the continent to UK in a Series Two Land Rover.
Into the World of Conservation
Growing restless with the destruction of forests, grasslands and wetlands, and the shrinking range of many plants and animals, I started a career in conservation setting up my own tiny company, MGM Environmental Solutions Ltd. based just outside of Cambridge. It was one of the first consultancy companies dedicated to biodiversity conservation and worked mainly for the European Commission and a couple of United Nations offices on protected areas development and species conservation. I learnt how to evaluate projects in the field, to pin down the causes of poor performance and critically how best to support recovery. It was a great privilege to take teams of experts into remote corners of the globe and to brainstorm conservation problems with many talented field operators.
Up to Scotland
I had always wanted to live close to the great outdoors and the time came when I knew I had to move, or remain forever within the cloistered walls of Cambridge. Edinburgh University offered me an office and a base for MGM and I moved back to Scotland in September 1993. It soon became clear that expanding the company further would involve me in an ever greater commitment to administration leaving little time for zoological research. I chose instead to set up as a freelance consultant which allowed me more time in the field troubleshooting conservation projects, and some time at home base to continue my studies of grazing antelopes and community ecology.
The Storm Leopard
Increasingly alarmed at the failure of the conservation movement to halt, let alone reverse, the erosion of habitats, species and wilderness, I became convinced of the need to look much more deeply at the root causes of loss. The quest for an answer drew me back to Africa. I decided on a gamble. Putting my business on hold I flew to Cape Town, bought a secondhand 4x4 and began a journey across the continent. This time I would travel without an agenda, without a timetable and without preconceptions: with no purpose other than to know, to feel and to understand. If there was an answer to the deadly fatalism of our times, I intended to find it. The story of this trip is recorded in my first book, The Storm Leopard, which describes the journey, the adventures, my quest for knowledge and the new understanding of conservation that emerged and which now inspires me.
Wild Nature with Martyn
This website started late in 2010 piggybacking initially on the company url mgmsolutions.com. My plan is to push out articles about nature, conservation and the wild. I'll add links to related articles and keep readers of The Wild Nature Blog, informed about any forthcoming events associated with The Storm Leopard. I know many of you are as concerned as I about the decline in wild places and wild life that inhabits them, and feel as keenly the need to build a closer relationship with nature - one that is well informed, ethical and effective. Please leave your comments, big or small, on the blog or come along to one of the author events.